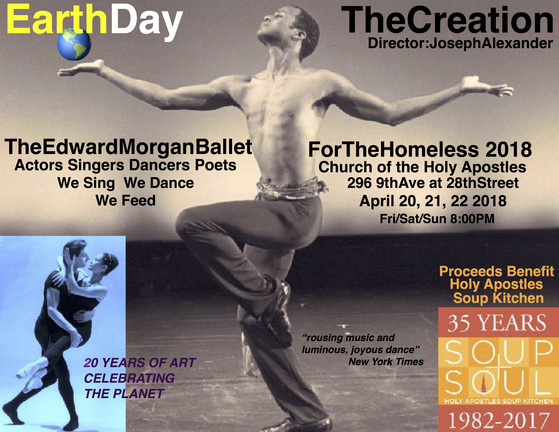 We Sing, We Dance, We Feed!
BALLET FOR THE HOMELESS PREMIERED OCTOBER 3-5 2014
IN 2014 BALLET FOR THE HOMELESS WAS ALSO PERFORMED BY THE GODDARD RIVERSIDE YOUTH THEATRE
BALLET FOR THE HOMELESS WAS PERFORMED IN CELEBRATION OF EARTH DAY APRIL 21-23 2017
BALLET FOR THE HOMLESS WAS PERFORMED AGAIN IN CELEBRATION OF EARTH DAY APRIL 20-22 2018
An awareness performance created by Joseph Alexander
This performance raised awareness, through the arts, and educated people about homelessness in New York City. In April 2014, there was an all-time record of 54,000 homeless people, and over 23,000 of them are youth. This performance is inspired by one of Mr. Alexander's dance students.
 She came up to him in class and said, "I will be late for rehearsal tomorrow because I'm moving into a homeless shelter." Mr. Alexander recalls that he was actually in shock when the little girl said that to him. He conferred with Edward Morgan who responded that the little girl is very talented and mentally stable; his advice was that if she weren't treated the same as everyone else, she wouldn't be happy. "So I was afraid," said Mr. Alexander, "but I turned around and said, DON'T BE LATE! And the little girl looked at me and said, 'Oh don't worry Mr. Alexander, I already told my mama that we need to move early so we won't be late!'" Not only did she do a great performance, but she was not late for rehearsal. Her excitement and enthusiasm for the ballet class blew Mr. Alexander away.
Ballet For The Homeless In The Press