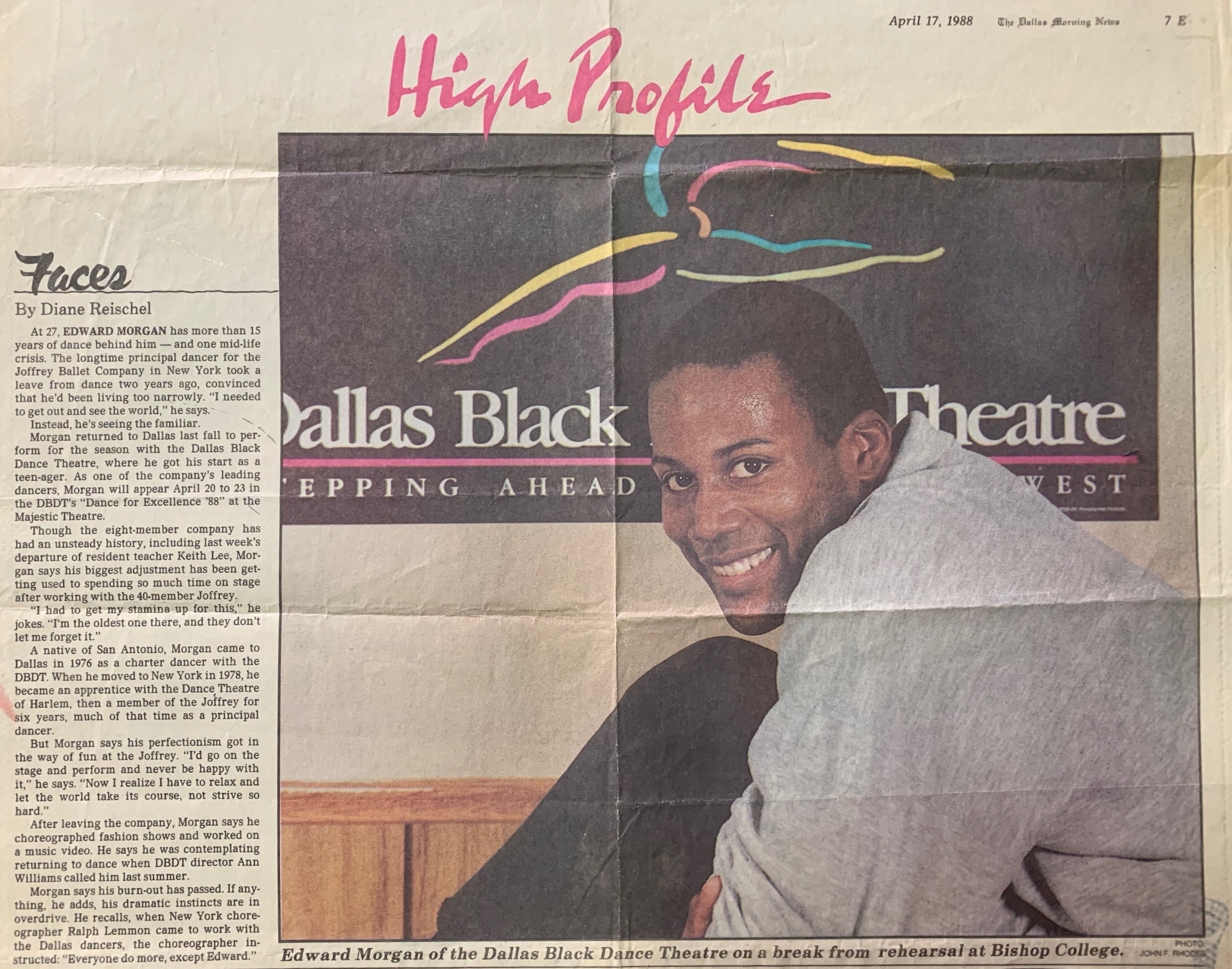 Dallas Black Dance Theatre 
The Dallas Morning News
April 17, 1988
High Profile Faces
By Diane Reischel 
At 27 EDWARD MORGAN has more than 15 years of dance behind him – and one mid-life crisis. The longtime principal dancer for the Joffrey Ballet Company in New York took a leave from dance two years ago, convinced that he'd been living too narrowly. "I needed to get out and see the world." he says. 
Instead he's seeing the familiar.  Morgan returned to Dallas last fall to perform for the season with the Dallas Black Dance Theatre, where he got his start as a teenager. As one of the company's leading dancers, Morgan will appear April 20 to 23 10 the DBDT's "Dance for Excellence '88" at the Majestic Theatre.
Though the eight-member company has had an unsteady history, including last week's departure of resident teacher Keith Lee, Morgan says his biggest adjustment has been getting used to spending so much time on stage after working with the 40-member Joffrey. "I had to get my stamina up for this," he jokes. "I'm the oldest one there, and they don't let me forget it. 
A native of San Antonio. Morgan came to Dallas in 1976 as a charter dancer with the DBDT. When he moved to New York in 1978, he became an apprentice with
the Dance Theatre of Harlem, then a member of the Joffrey for six years, much of that time as a principal dancer.
But Morgan says his perfectionism got in the way of fun at the Joffrey. "I'd go on the stage and perform and never be happy with it, " he says. "Now I realize I have to relax and let the world take its course, not strive so hard. 
After leaving the company, Morgan says he choreographed fashion shows and worked of a music video. He says he was contemplating returning to dance when DBDT director Ann Williams called him last summer. Morgan says his burn-out has passed. If anything, he adds, his dramatic instincts are in overdrive. He recalls, when New York choreographer Ralph Lemmon came to work with the Dallas dancers, the choreographer instructed:"Everyone do more, except Edward."