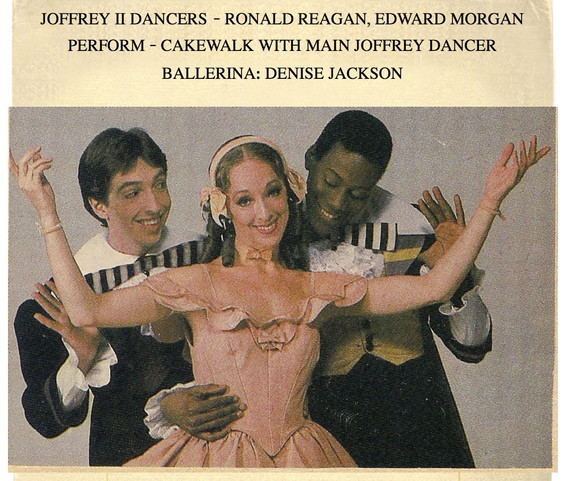 Joffrey II Dancers Ronald Reagan, Edward Morgan Perform Cakewalk with Main Joffrey Dancer Ballerina: Denise Jackson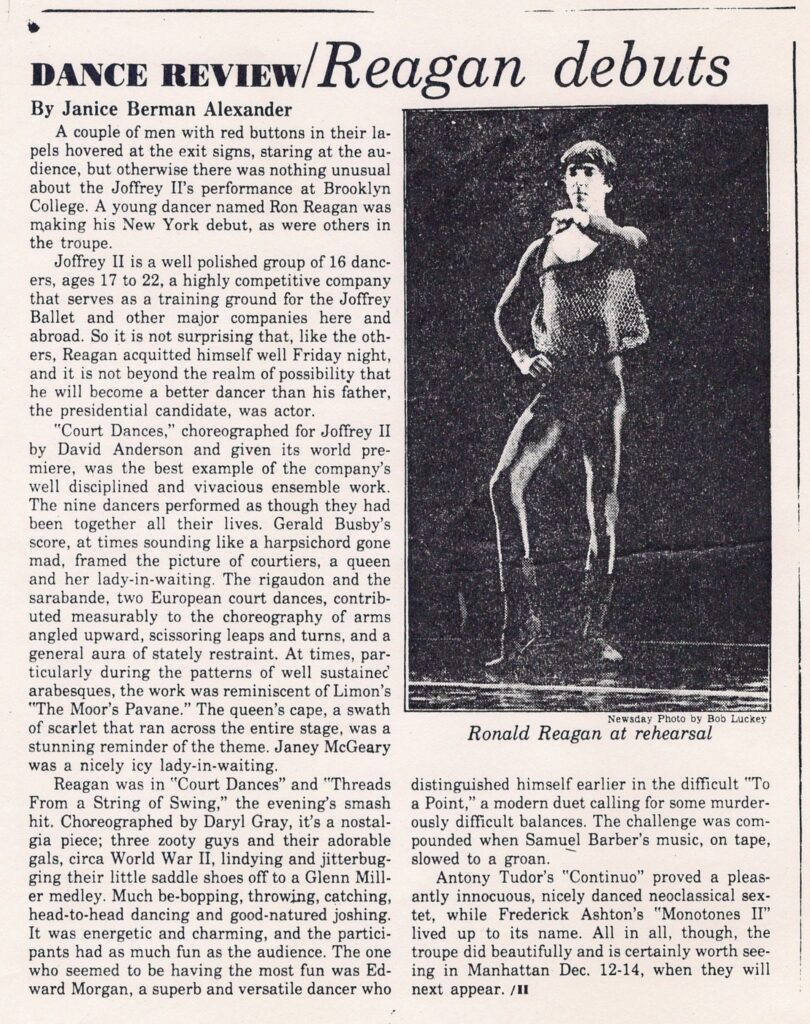 Newsday Dance Review/ Regan debuts
By Janice Herman Alexander
Reagan was in "Court Dances" and "Threads From a String of Swing," the evening's smash hit. Choreographed by Daryl Gray, it's a nostalgia piece; three sooty guys and their adorable gals, circa World War II, landing and jitterbugging their little saddle shoes off to a Glenn Miller Medley. Much be-bopping, throwing, catching, head-to-head dancing and good-natured joshing. It was energetic and charming, and the participants had as much fun as the audience. The one who seemed to be having the most fun was Edward Morgan, a superb and versatile dancer who distinguished himself earlier in the difficult "To a Point," a modern duet calling for some murderously difficult balances. The challenge was compounded when Samuel Barber's music, on tape, slowed to a groan.
The New York Times Dance: Debute for Ron Reagan  –  Joffrey II Dancers    By ANNA KISSELGOFF
In the balleticized social dances of the 1940's that make up Daryl Gray's joyful big-band ballet, "Threads from String of Swing." Mr. Reagan was totally at home. He is a natural performer. The star nonetheless was Edward Morgan (also outstanding in Stewart Jarrett's "To a Point" with Mr. Quinn). Julie Janus, Anne Bryan, Miss Kromholtz and Michael Hudson rounded out an exuberant cast.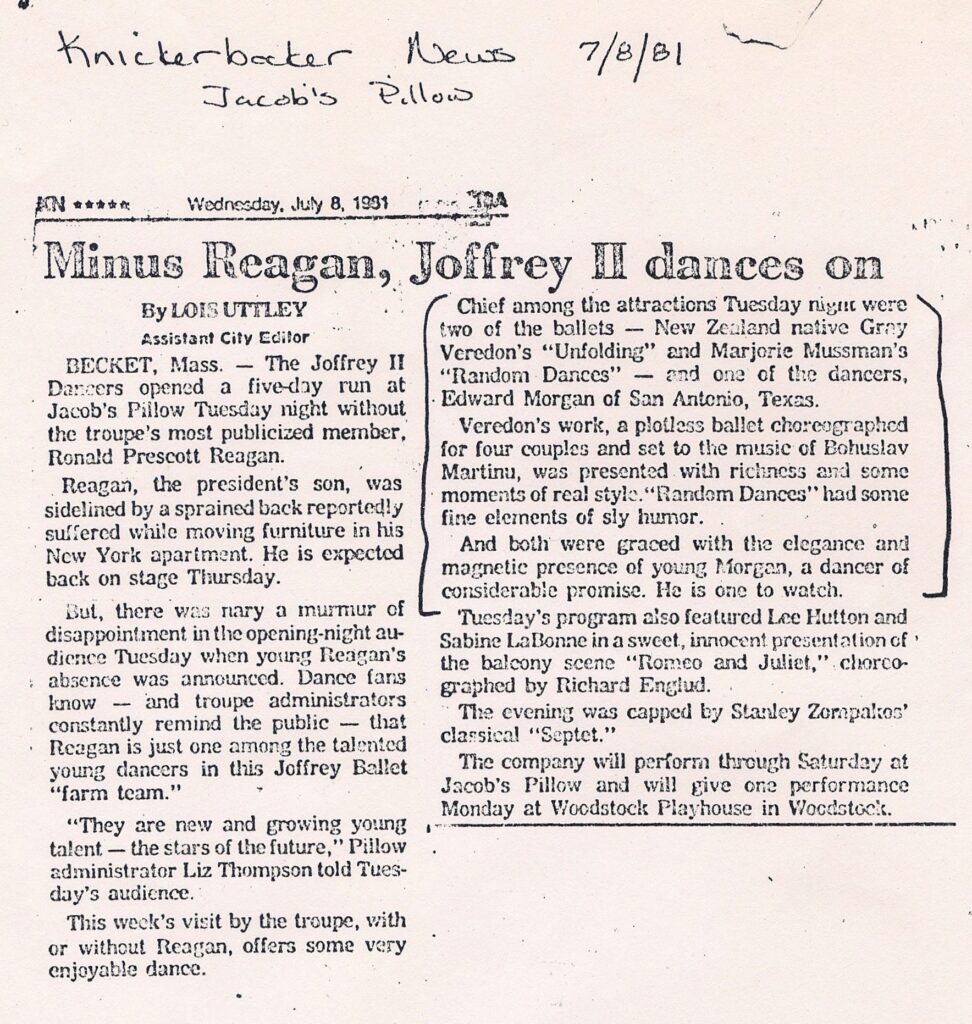 Knickerbocker News – Jacob's Pillow – Joffrey II
Wednesday, July 8, 1981 
By LOUIS UTTLEY Assistant City Editor 
Chief among the attractions Tuesday night were two of the ballets – New Zealand native Grey Veredon's "Unfolding" and Marjorie Mussman's "Random Dances" – and one of the dancers, Edward Morgan of San Antonio, Texas.
Veredon's work, a plotless ballet choreographed for four couples and set to music of Bohuslav Martinu, was presented with richness and some moments of real style. "Random Dances" had some fine elements of sly humor.
And both were graces with the elegance and magnetic presence of young Morgan, a dancer of considerable promise. He is one to watch.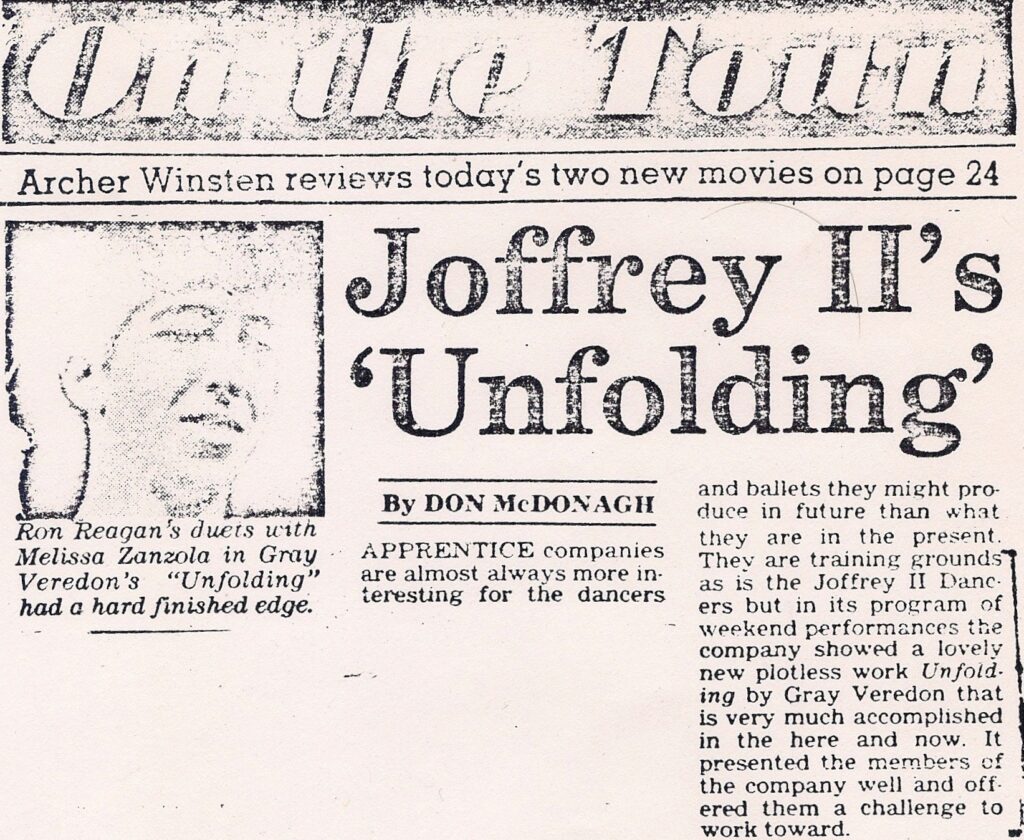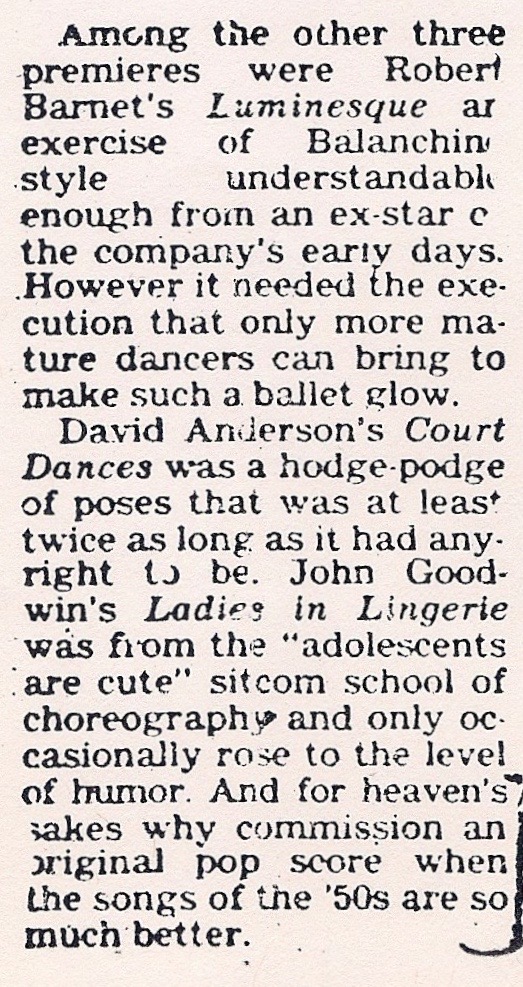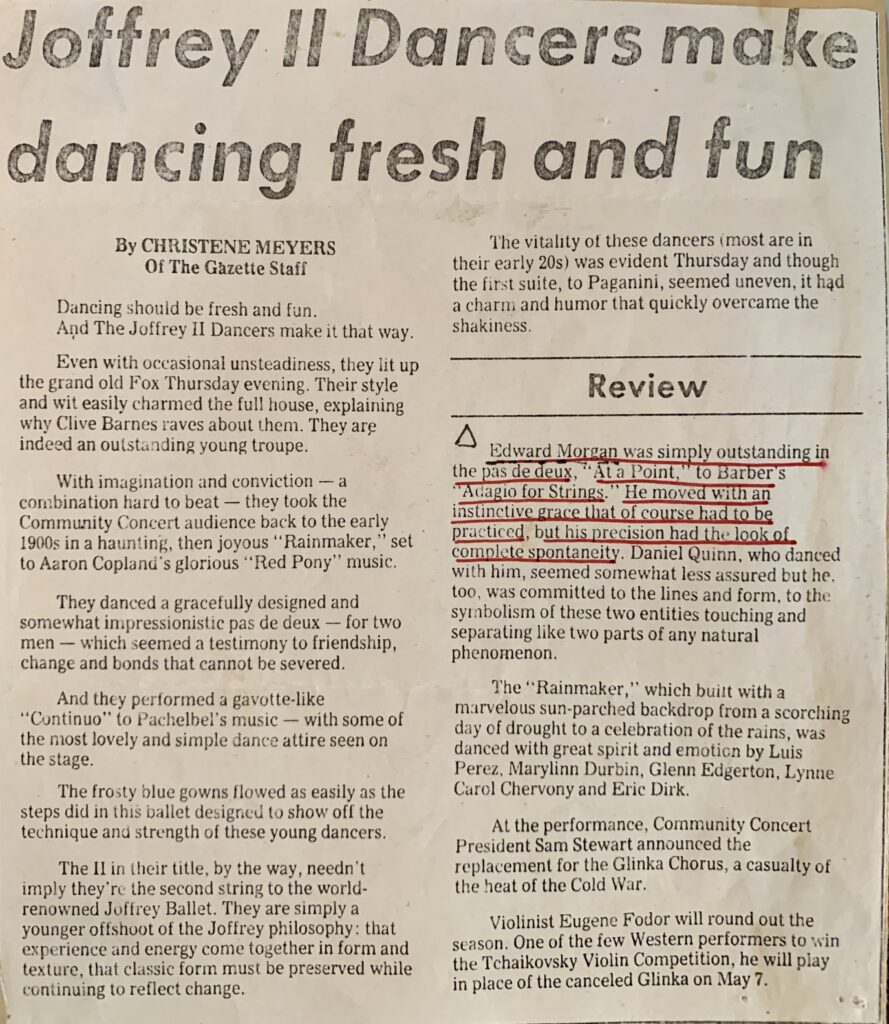 Joffrey Il Dancers make dancing fresh and fun 
By CHRISTENE MEYERS Of The Gazette Staff
Edward Morgan was simply outstanding in the pas de deux, "At a Point." to Barber's"Adagio for Strings. "He moved with an instinctive grace that of course had to be practiced, but his precision had the look of complete spontaneity.