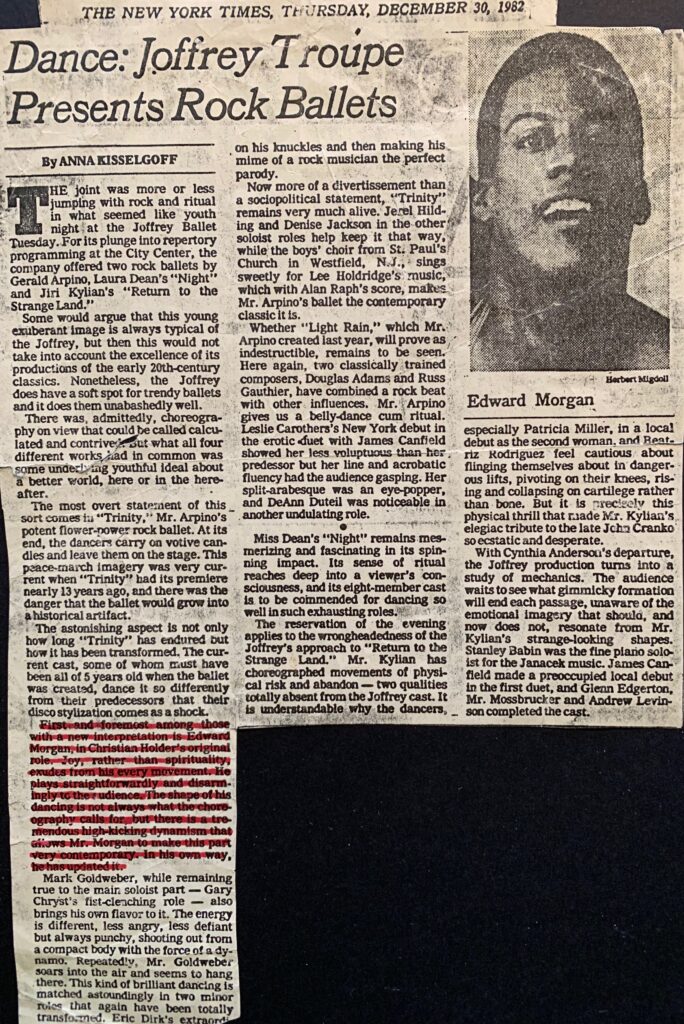 DANCE: JOFFREY TROUPE PRESENTS ROCK BALLETS
By Anna Kisselgoff
Dec. 30, 1982
THE joint was more or less jumping with rock and ritual in what seemed like youth night at the Joffrey Ballet Tuesday. For its plunge into repertory programming at the City Center, the company offered two rock ballets by Gerald Arpino, Laura Dean's "Night" and Jiri Kylian's "Return to the Strange Land."
Some would argue that this young exuberant image is always typical of the Joffrey, but then this would not take into account the excellence of its productions of the early 20th-century classics. Nonetheless, the Joffrey does have a soft spot for trendy ballets and it does them unabashedly well.
There was, admittedly, choreography on view that could be called calculated and contrived. But what all four different works had in common was some underlying youthful ideal about a better world, here or in the hereafter.
The most overt statement of this sort comes in "Trinity," Mr. Arpino's potent flower-power rock ballet. At its end, the dancers carry on votive candles and leave them on the stage. This peacemarch imagery was very current when "Trinity" had its premiere nearly 13 years ago, and there was the danger that the ballet would grow into a historical artifact.
The astonishing aspect is not only how long "Trinity" has endured but how it has been transformed. The current cast, some of whom must have been all of 5 years old when the ballet was created, dance it so differently from their predecessors that their disco stylization comes as a shock.
First and foremost among those with a new interpretation is Edward Morgan, in Christian Holder's original role. Joy, rather than spirituality, exudes from his every movement. He plays straightforwardly and disarmingly to the audience. The shape of his dancing is not always what the choreography calls for, but there is a tremendous high-kicking dynamism that allows Mr. Morgan to make this part very contemporary. In his own way, he has updated it.
Mark Goldweber, while remaining true to the main soloist part – Gary Chryst's fist-clenching role – also brings his own flavor to it. The energy is different, less angry, less defiant but always punchy, shooting out from a compact body with the force of a dynamo. Repeatedly, Mr. Goldweber soars into the air and seems to hang there. This kind of brilliant dancing is matched astoundingly in two minor roles that again have been totally transformed. Eric Dirk's extraordinarily high and flashing leaps make a cameo solo a meteorburst of energy. Tom Mossbrucker brought in applause simply by rising from the floor on his knuckles and then making his mime of a rock musician the perfect parody.
Now more of a divertissement than a sociopolitical statement, "Trinity" remains very much alive. Jerel Hilding and Denise Jackson in the other soloist roles help keep it that way, while the boys' choir from St. Paul's Church in Westfield, N.J., sings sweetly for Lee Holdridge's music, which with Alan Raph's score, makes Mr. Arpino's ballet the contemporary classic it is.
Whether "Light Rain," which Mr. Arpino created last year, will prove as indestructible, remains to be seen. Here again, two classically trained composers, Douglas Adams and Russ Gauthier, have combined a rock beat with other influences. Mr. Arpino gives us a belly-dance cum ritual. Leslie Carothers's New York debut in the erotic duet with James Canfield showed her less voluptuous than her predessor but her line and acrobatic fluency had the audience gasping. Her split-arabesque was an eye-popper, and DeAnn Duteil was noticeable in another undulating role.
Miss Dean's "Night" remains mesmerizing and fascinating in its spinning impact. Its sense of ritual reaches deep into a viewer's consciousness, and its eight-member cast is to be commended for dancing so well in such exhausting roles.
The reservation of the evening applies to the wrongheadedness of the Joffrey's approach to "Return to the Strange Land." Mr. Kylian has choreographed movements of physical risk and abandon – two qualities totally absent from the Joffrey cast. It is understandable why the dancers, especially Patricia Miller, in a local debut as the second woman, and Beatriz Rodriguez feel cautious about flinging themselves about in dangerous lifts, pivoting on their knees, rising and collapsing on cartilege rather than bone. But it is precisely this physical thrill that made Mr. Kylian's elegiac tribute to the late John Cranko so ecstatic and desperate.
With Cynthia Anderson's departure, the Joffrey production turns into a study of mechanics. The audience waits to see what gimmicky formation will end each passage, unaware of the emotional imagery that should, and now does not, resonate from Mr. Kylian's strangelooking shapes. Stanley Babin was the fine piano soloist for the Janacek music. James Canfield made a preoccupied local debut in the first duet, and Glenn Edgerton, Mr. Mossbrucker and Andrew Levinson completed the cast.